Elsker du Brødrene Grimms folkeeventyr, og har du lyst til at tage en tur med lille Rødhætte fra det klassiske Grimm-eventyr ud i den magiske, eventyrlige skov, hvor masser af pengegevinster er på spil? Så har du nu mulighed for at spille på NetEnts eventyrlige 3D-videospillemaskine "Rødhætte" fra NetEnt's "Fairytale Legends"-serie. Læs med nedenfor, hvor vi har givet vores anmeldelse af spillemaskinen og find dermed ud af, om denne spillemaskine er noget for dig.
På Rødhætte-spillemaskinen kan du fordybe dig i et eventyrligt spilunivers, hvor tematikkerne spænder over dem, der ses i folkeeventyret af samme navn, og hvor den primære hovedrolle således er Rødhætte, mens de centrale sekundære biroller naturligvis er Rødhættes bedstemor samt den farlige ulv. I vores anmeldelse af spillemaskinen har vi fokuseret på nogle helt centrale parametre, som har indflydelse på den samlede vurdering. Så ønsker du at finde ud af, hvorvidt denne spillemaskine er noget for dig, vil vi råde dig til at læse med nedenfor.
Grafik og lyd af høj kvalitet
Spillemaskinen er udviklet af NetEnt, som i særdeleshed er kendt for at levere innovative kvalitetsspil, hvilket i høj grad også er tilfældet for denne spillemaskine. På denne fantastiske, eventyrlige spillemaskine, hvor der er fem hjul, tre rækker og 20 aktive gevinstlinjer, er der et væld af gunstige features og bonusrunder, der i høj grad er medvirkende til at øge spillerens chancer for at vinde store pengegevinster. Grafikken er ligeledes aldeles flot, og en fin detalje er, at Rødhætte og skoven bevæger sig i baggrunden af tromlerne i takt med, at spillet skrider fremad. Hermed hjælper du, som spiller, den lille pige med at komme tættere på bedstemorens hus, hver gang du trykket på spillemaskinens "spin"-knap. Dette er en livlig effekt, der skaber dynamik, og som dermed giver en større værdi til spillet. Samtidig hermed bidrager lydeffekterne til at skabe en eventyrlig stemning, som ligeledes understøtter spillets tematikker og bidrager til at gøre spillemaskinen yderligere gennemført.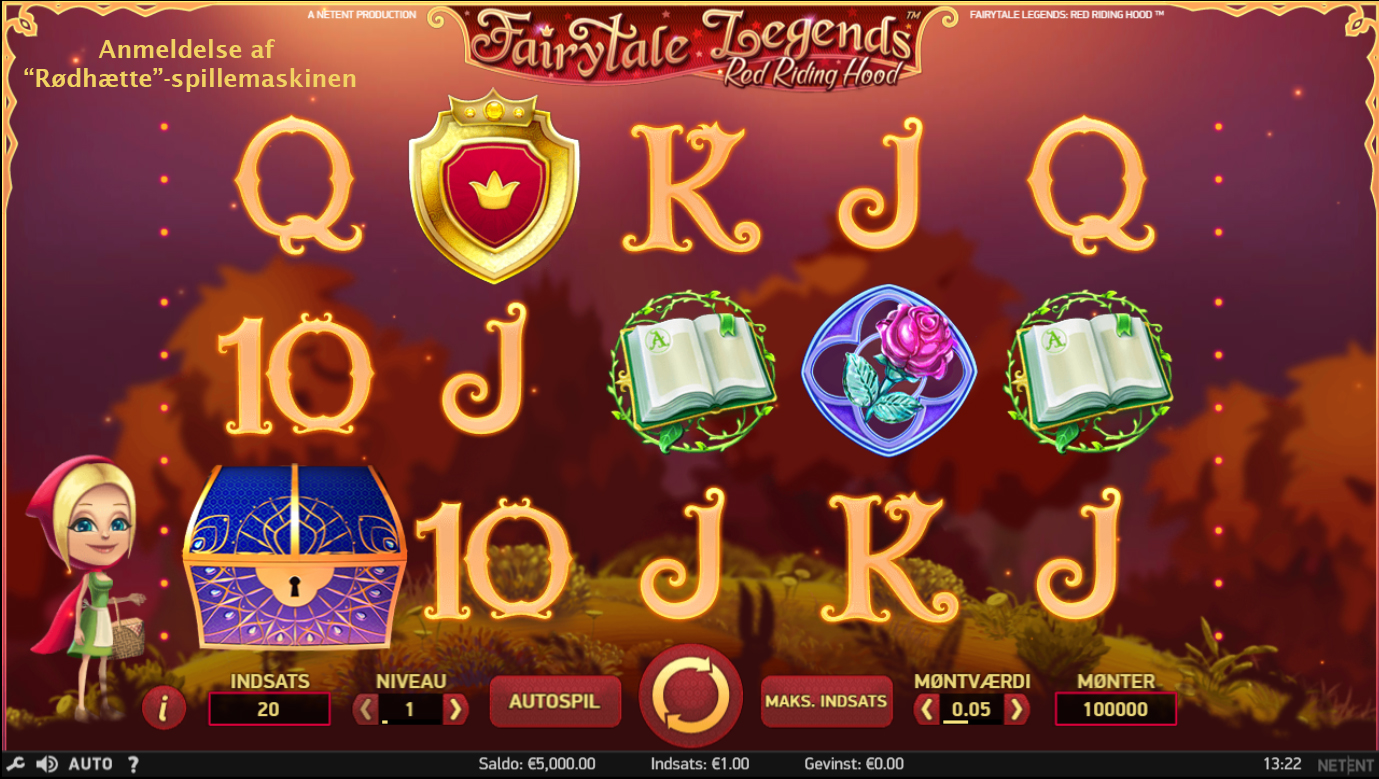 Wild-symboler, tilfældige features og bonusrunder
Som tidligere påpeget er der en række attraktive bonusfeatures, når man spiller på NetEnts "Rødhætte"-spillemaskinen. Der kan i denne forbindelse fremkomme Wild-symboler på hjul to, tre og fire i hovedspillet samt på alle hjul under Free Spins. Disse Wild-symboler kan erstatte de andre symboler i spillet, og i tilfælde af at man får to eller flere Wild-symboler på hjulene i hovedspillet, vil dette svare til at få såkaldte Sticky Wilds, som tildeler Re-Spins; de såkaldte Sticky Wild Re-Spins.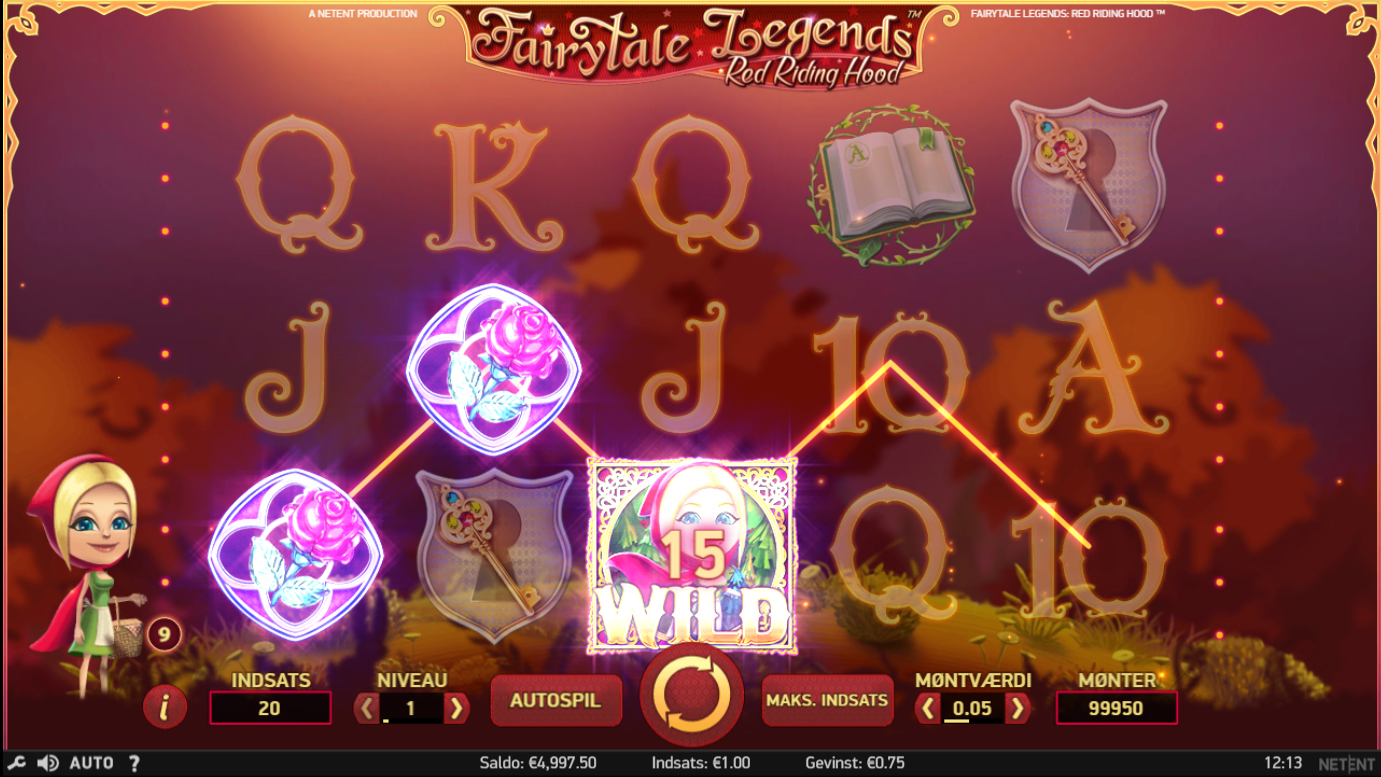 Ydermere kan tilfældige features dukke op på tilfældig vis i hovedspillet, når den magiske fe viser sig på skærmen. Der er i alt tre tilfældige features; henholdsvis Fairy Magic Spin, Fairy Surprise og Fairy Wild Spin. Den første af de førnævnte tilfældige features fungerer ved, at der fremkommer mellem fem og ni gevinstsymboler af middelværdi, med undtagelse af spillogosymbolet. Disse fremkommer som overlæggende symboler på hjulene i én spilleomgang. Hvis man ikke får gevinster i hovedspillet, så aktiveres den anden tilfældige feature; den såkaldte Fairy Surprise. I forbindelse med at denne feature aktiveres, vil et tilfældigt mellemgevinstsymbol på hjulene blive valgt, når spilleomgangen er slut. Derefter vil de øvrige symboler, begyndende med lavgevinstsymbolerne, blive forvandlet til det valgte symbol, indtil en gevinst fås. Endvidere kan du få den tilfældige Fairy Wild Spin-feature aktiveret ved, at tre eller fire Wild-symboler fremkommer på hjul to, tre og fire. Så snart hjulene er i ro, og gevinsterne er udbetalt, vil et Sticky Wild Re-spin blive aktiveret.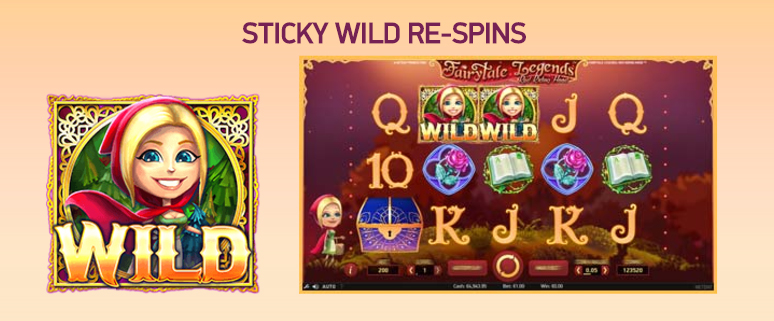 På Rødhætte-spillemaskinen er der naturligvis også bonusfeatures. Der er netop tre forskellige bonusfeatures, som aktiveres, når tre bonussymboler, som vises som skattekister, fremkommer på henholdsvis hjul et, tre og fem i hovedspillet. Herefter vælger spilleren selv ét af de tre bonussymboler, hvorefter bonusfeaturen bliver aktiveret. De tre forskellige bonusfeatures, man kan opnå, er Beware the Wolf Bonus, Free Spins og Coin Win.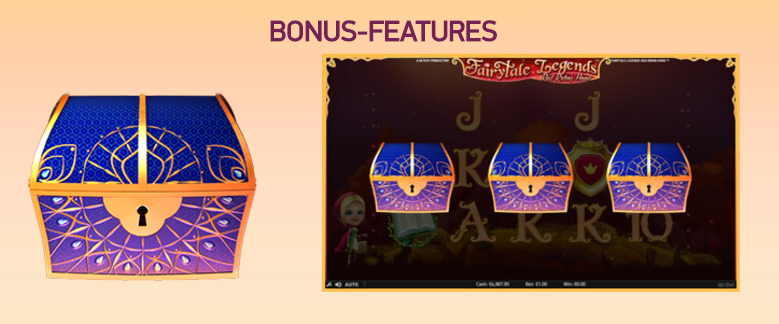 Den såkaldte Beware the Wolf Bonus tildeler et Bonus Game. Dette Bonus Game ligner på sin vis et brætspil, hvor der i alt er fem felter; Coin Win, Dobbel, Pil, Jackpot Coin Win og Indkassér. Herefter fungerer bonussen ved, at spilleren drejer en mølle for at rykke rundt på brættet og således få mulighed for at vinde mønter. I denne sammenhæng skal man imidlertid undgå feltet "Indkassér", idet dette netop stopper bonusspillet. Endvidere aktiverer den anden bonusfeature, Free Spins-funktionen, hele 10 Free Spins, mens den tredje bonusfeature, Coin Win, giver spilleren en møntgevinst, hvis værdi er lig den aktuelle indsats x15.
En række andre symboler kan ligeledes fremkomme på spillemaskinen. Disse inddeles i henholdsvis mellemstore gevinstsymboler og lavgevinstsymboler, idet de repræsenterer forskellige værdier. Værdierne heraf kan iøvrigt ses på de to nedenstående billeder:


Spil på Rødhætte-spillemaskinen via din mobile enhed
Rødhætte-spillemaskinen er ligeledes mobilvenlig, idet den er tilgængelig på mobile enheder såsom smartphones og tablets. Dette vil således sige, at du også har mulighed for at tage spillet med dig, når du er på farten. Du kan desuden også være sikker på, at grafikken er i top, selvom der spilles via mobilenheder. Ved du imidlertid ikke hvilke fordele og eventuelle ulemper, der er forbundet med at spille på et mobil casino, så har du ligeledes muligheden for at få mere viden herom via vores hjemmeside, da vi netop har skrevet en artikel om mobile casinoer.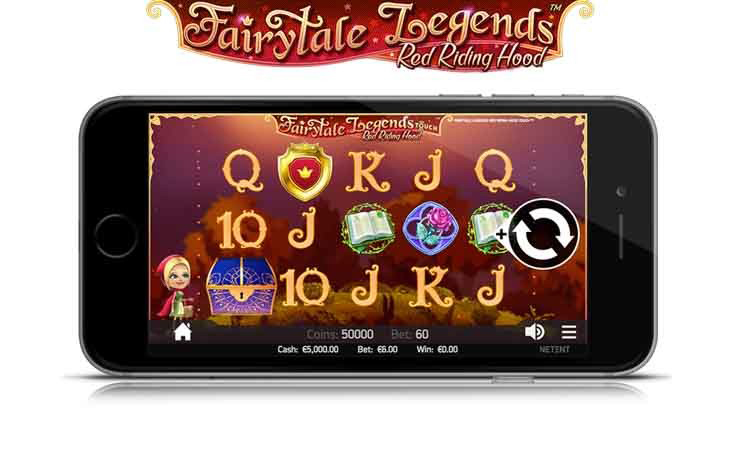 Find Rødhætte-spillemaskinen på de danske online casinoer
Ydermere har du både mulighed for at spille via prøvespil-funktionen og for at spille om rigtige penge ved at indbetale penge på en spillekonto hos et af de online casinoer, som udbyder spillet. Flere af de danske online casinoer med dansk licens udbyder netop denne spændende Rødhætte-spillemaskine. Er du imidlertid i tvivl om hvilket online casino, der passer bedst til dig og dine behov, så kan det anbefales, at du læser vores objektive og saglige anmeldelser af de online casinoer her på CasinoButler.dk. Vores anmeldelser giver dig rig mulighed for at få øget indblik i, hvilke muligheder og begrænsninger der er ved de enkelte casinoer.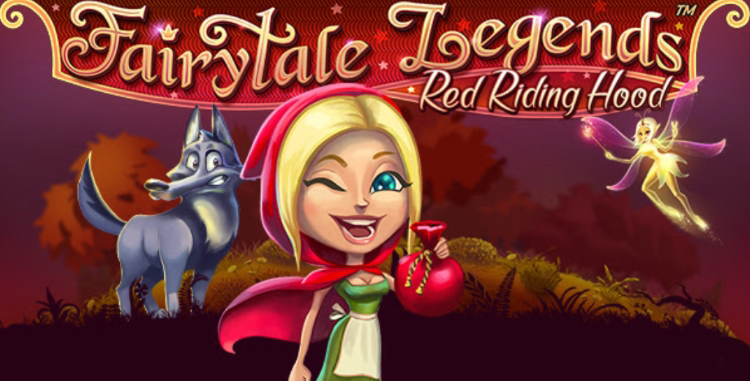 Opsummerende kan det hermed siges, at Rødhætte-spillemaskinen er en af de mere avancerede 3D-videospillemaskiner med en række nye funktioner, et flot design samt høj HD-grafik, og du kan som følge heraf være sikker på, at kvaliteten er i top, når du spiller på denne – hvad end du spiller på en computer, smartphone eller tablet. På spillet finder du i øvrigt en uddybet og præciseret forklaring på de forskellige features og symboler, hvorfor dette, i kombination med prøvespil-funktionen, således også gør det muligt for nybegyndere at spille på spillemaskinen. Så har du lyst til at få en god, eventyrlig spilleoplevelse, og vil du i forlængelse heraf have muligheden for at vinde store gevinster? Så kan denne spillemaskine fra NetEnt bestemt anbefales.
Spil funktioner
Mere information