På Leprechaun Goes to Hell-spilleautomaten, der er udviklet af den anderkendte og velrespekterede softwareleverandør Play'n GO, er der Wild-symboler, bonusrunder og hele fire jackpots på højkant. Her hælder temaet til den dystre og uhyggelige side, som navnet også antyder, og her får spilleren således mulighed for at tage med spilleatuomatens hovedperson, den lille irske alf Leprechaun ned i helvede, hvor der er masser af underholdning og gevinster på spil. Play'n GO er kendt for at levere kvalitetsspil, hvor grafik og underholdning bestemt må siges at være i top. Her på CasinoButler kan du læse vores anmeldelse af automatspillet Leprechaun Goet to Hell. Vi ser i denne forbindelse nærmere på en række helt centrale faktorer, som alle er afgørende for spilleautomaten, herunder blandt andet bonusfeatures, bonusrunder, kvalitet, mobilvenlighed og vinderchancer.
Vinderchancer og gevinster på spilleautomaten
Når man spiller på dette automatspil kan du være sikker på, at der er store gevinster på højkant. I Leprechaun Goes to Hell-spillet kan du vinde op til 10.000x din indsats, mens der yderligere er intet mindre end fire forskellige jackpot-gevinster på højkant, som alle ligger klar til at kunne blive vundet. Disse fire slot jackpots kan blive vundet i én af de to bonusrunder, der er i dette underholdende spil fra Play'n GO. Derudover er der fem tromler med tre rækker og hele 25 gevinstlinjer, når man spiller dette automatspil, mens tilbagebetalingsprocenten er på 96,54 %, hvilket altså yderligere også er et tegn på, at der er store vinderchancer på denne spilleautomat. I øvrigt er det således, at hvis spilleren vinder på en gevinstlinje, hvor begge wild-symboler fremtræder på tromlerne, så vil den gevinst, som almindeligvis ville have været vundet på denne kombination, blive fordoblet. Ligeledes vil spillerens gevinstmultiplikation forøges med 2 op til i alt x10, hvis spilleren får tre scatter-symboler eller derover under gratis spins. Ydermere udbetales alle gevinster fra venstre til højre. Dette gælder dog ikke Scatter-symboler, da fordelen ved disse er, at de netop kan udbetales hvor som helst. Som på de fleste øvrige spilleautomater er det desuden sådan, at det kun er den højeste gevinst per valgt linje, der udbetales.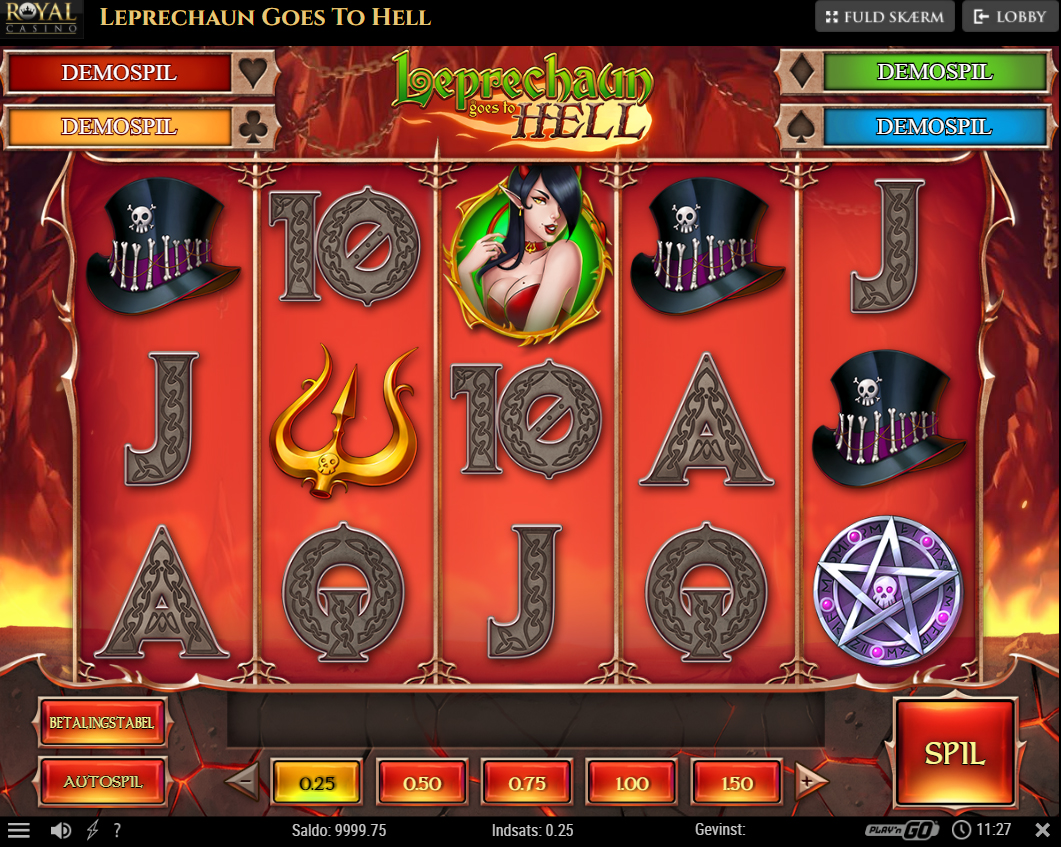 Wild-symboler – Eveline og Leprechaun
Der optræder en række forskellige symboler på spilleautomaten. Herunder kan blandt andet nævnes Eveline, som er en hun-djævle, Leprechaun, som er den grønne alf, og potter fyldt med med guldmønter og giftflasker. Eveline og Leprechaun fungerer som wild-symboler, der kan erstatte alle de øvrige symboler, dog med undtagelse af potten. I øvrigt er det således, at Eveline-swildymbolet både fungerer som et wild-symbol såvel som et scatter-symbol. Dette hænger samme med, at der er to bonusrunder, når man spiller på denne spilleautomat.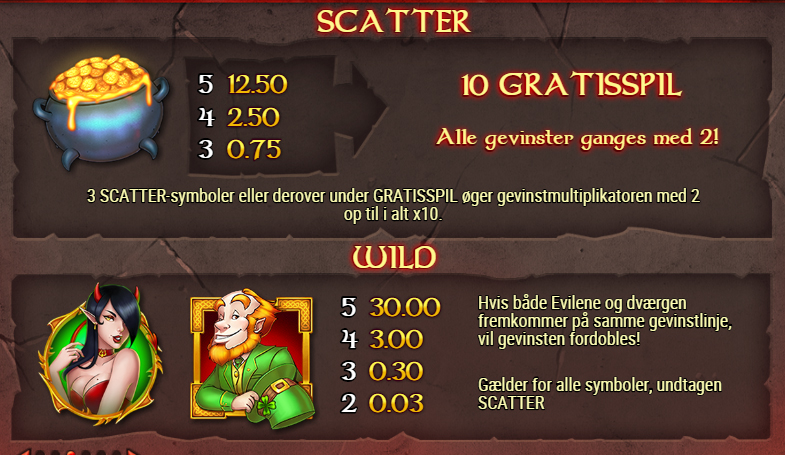 Men hvornår kan de forskellige symboler så fremtræde på tromlerne i Leprechaun Goes to Hell? I hovedspillet kan den grønne alf kaldet Leprechaun samt potten med guldmønter vise sig på alle fem hjul. Dette er anderledes for Eveline, som blot kan vises dig på hjul to, tre og fire i hovedspillet. Til trods for at Eveline ikke vises på alle hjulene, skal man ikke være i tvivl om, at chancen for at tre Eveline symboler kan vise sig på hjulene er der. Dette skyldes, at spilleren får en bonusrunde, hvis to Eveline symboler fremvises på tromlerne. Bonusrunden dækker i denne forbindelse over et gratis spin på det hjul, hvor Eveline ikke vises i hovedspillet.
Bonusfeatures i Leprechaun Goes to Hell
Vælger man at spille på dette automatspil, så er der en række bonusfeatures. For det første vil man få en bonusrunde i tilfælde af, at tre potter fremkommer på hjulene i et spin. I denne bonusrunde vil spilleren blive tildelt intet mindre end 10 gratis spins på Leprechaun Goes to Hell-spilleautomaten. Hvis man oven i købet vinder en gevinst i bonusrunden, så er det ikke en almindelig gevinst, idet det netop er således, at gevinsten i dette tilfælde fordobles! Ikke nok med at gevinsterne fordobles, så er der desuden også mulighed for, at man yderligere kan få gratis spins i bonusrunden. Måden, hvorpå dette sker, er ved, at der endnu engang optræder tre potter på hjulene. Dette er der yderligere fordele ved; spilleren vil ikke blot modtage 10 gratis spins, men ligeledes få sin samlede gevinst ganget med fire. Samlet ses giver denne bonusfeature mulighed for, at spilleren kan modtage 50 gratis spins, samt at gevinsten ganges med 10.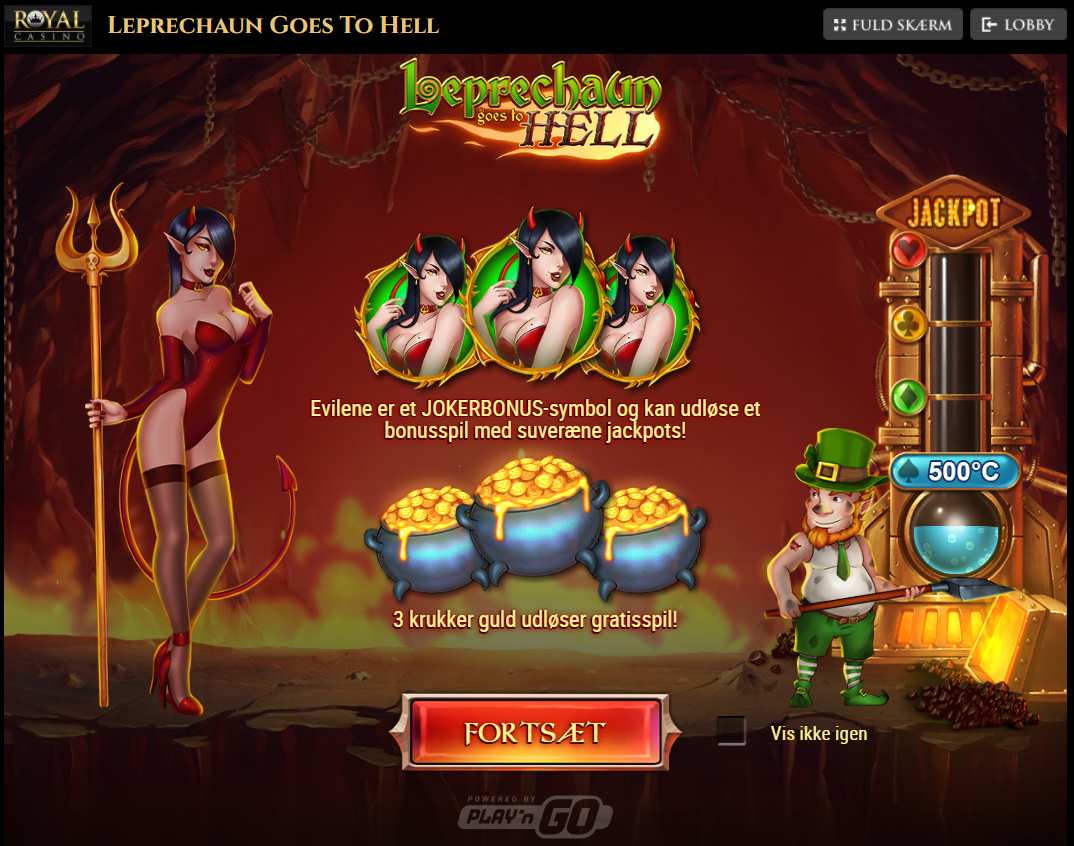 Såfremt man får tre Eveline-symboler, er der mulighed for at vinde jackpots. Dette kan enten være ved, at der fremkommer tre Eveline symboler i samme spin eller ved, at to Eveline-symboler vises i et spin, som således udløser en bonusrunde, hvor det tredje symbol fremkommer. Hermed træder spilleren netop ind i anden bonusrunde, hvilket er den runde, hvor de fire jackpots kan vindes på Leprechaun Goes to Hell-slotmaskinen. I anden bonusrunde ændrer maskinen sig fra at have fem hjul til at have tre hjul, samtidig med at spilleren vil blive tildelt yderligere 10 gratis spins. På spilleautomaten er der fire niveauer af varme, og hver gang spilleren får en vindende kombination på en af sine gratis spins, vil der blive varmere i spillet. Det er de fire varmeniveauer, der kan føre spilleren til en jackpot. Den mindste jackpot udløses at det første varmeniveau, den næstmindste jackpot udløses af det andet varmeniveau osv. Det vil sige, at det højeste varmeniveau fører spilleren til den største jackpot-gevinst i Leprechaun Goes to Hell.  Når man påbegynder et spil, skal man indtaste henholdsvis indsats- og møntværdi. Desto højere din ind indsats er, desto mere stiger temperaturen sammen med dine chancer for at vinde den største jackpot i spillet. Desuden kan man yderligere få flere gratis spins i denne anden bonusrunde. Måden, hvorpå dette kan ske, er ved, at der på det tredje hjul lander et hjerte. Hver gang hjertet fremkommer under spillefunktionen, tildeles der et ekstra "djævelsk" spil. Samlet set vil det altså sige, at der er mange bonusfeatures i Leprechaun Goes to Hell, hvilket vi vurderer som værende et stort plus i anmeldelsen.
Hvor kan man spille Leprechaun Goes to Hell?
Leprechaun Goes to Hell er tilgængelig på de fleste danske casinoer. Det er blandt andet muligt at spille Leprechaun Goes to Hell hos Royal Casino og hos Unibet, som er to online casinoer, vi i høj grad kan anbefale. Derudover er det en fordel, at der er mulighed for, at man kan spille Leprechaun Goes to Hell via mobile enheder, idet det netop er et mobil venligt spil. Det vil sige, at spilleren har mulighed for at prøve lykken på automatspillet lige når og hvornår, vedkommende vil. Grafikken er i top, selvom man vælger at spille Leprechaun Goes to Hell på et mobil casino. Samtidig med det er alle bonusfeatures de samme, hvad end der spilles på et online casino via mobilen eller en computer, hvorfor dette også er et plus i anmeldelsen af spilleautomaten. Derudover har man, som på de fleste andre spillemaskiner, mulighed for at spille via en autospil-funktion. Det vil sige, at spilleren kan få mulighed for at spille Leprechaun Goes to Hell helt gratis via en prøvespilfunktion, hvilket er en super funktion, der kan give spilleren øget mulighed for at få mere erfaring og kendskab til spillemaskinen, inden der indbetales rigtige penge på spillet. I denne forbindelse skal man blot huske på, at der således ikke vil være mulighed for at vinde pengegevinster, når der spilles gratis via en prøvespil-funktion, så vil man have mulighed for at vinde de helt store pengegevinster kan det anbefales, at man bruger prøvespil-funktionen til at forøge vinderchancerne, og så snart man føler, at man har tilstrækkeligt kendskab til regler osv., kan man satse rigtige penge og dermed have mulighed for at få fat i de helt store jackpotgevinster.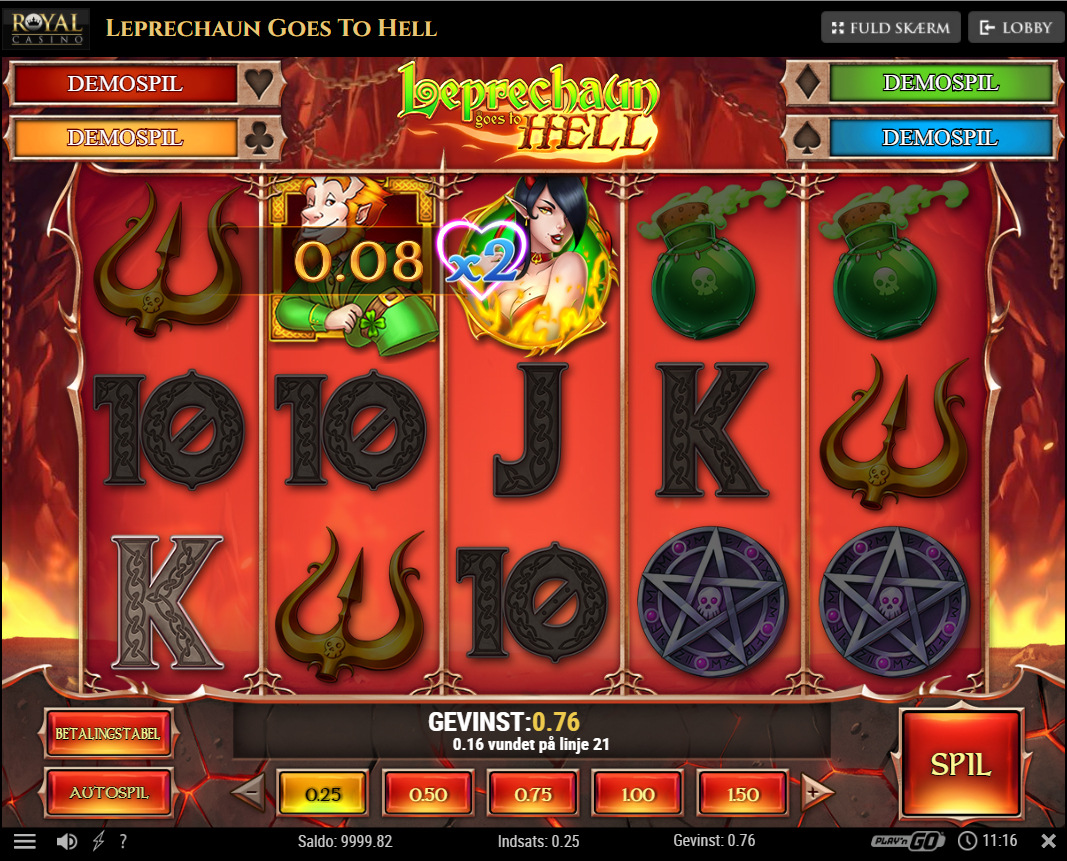 Spil funktioner
Mere information