Der tilbydes hele tiden nye spil på de forskellige danske online casinoer. Dette er også gældende for tiden, hvor en række online casinoer tilbyder den nye spillemaskine Fairytale Legends: Hansel & Gretel. Har du lyst til at rejse ind i en eventyrlig verden med søskendeparret Hans og Grete, så har du altså muligheden nu, idet den anerkendte softwareleverandør NetEnt har udviklet denne nye spilleautomat, hvis tematikker spænder over dem, der ses i brødrene Grimms klassiske folkeeventyr om Hans og Grete!
Fairytale Legends: Hansel & Gretel-spilleautomaten giver dig mulighed for at komme helt tæt på Hans og Grete inde i den mørke, eventyrlige skov fyldt med magi. Ønsker du at vide mere om spillemaskinen, inden du påbegynder spillet, så kan du læse med i nedenstående artikel, hvor vi anmelder spilleautomaten.
Hans og Grete – En spilleautomat for alle spillere
Fairytale Legends: Hansel & Gretel er et automatspil, hvor jagten som altid går på at få ens symboler. Spilleautomaten er forholdsvis simpel i sin opbygning, idet den består af fem tromler med tre rækker i hver tromle og ti forskellige gevinstlinjer. Undervejs i spillet møder du en magisk fe, som hjælper dig med at få fat i forskellige fordelagtige bonusser. Ved tre ens symboler vinder du en gevinst, og det er kun den højeste gevinst per spillelinje, der udbetales. Gevinsterne udbetales, hvis symbolerne kommer efter hinanden, og det er ligegyldigt hvor på spillelinjen, symbolerne begynder. Du får desuden hjælp på vejen af bonussymboler, der også kan sikre dig re-spins, bonusspil og meget mere. De forskellige special-features på kommer der en dybdegående forklaring på nedenfor.
Spillet har sin fordel ved at være tiltænkt alle spillere; såvel erfarne som nybegyndere. Du skal ikke købe dine linjer, hvilket betyder, at du har samme vinderchance uanset indsats per spin. Det giver både spillere, der satser stort og småt, lov til at være med på lige vilkår, og det trækker op i vores Fairytale Legends Hansel & Gretel anmeldelse. Dine gevinster afhænger selvfølgelig af, hvor meget du har satset. En fordel ved spilleautomaten er desuden også, at den både er tilgængelig på mobile enheder, eksempelvis smartphones og tablets, såvel som på en almindelig computer, og du kan også være sikker på, at kvaliteten er i højsædet for mobil casino.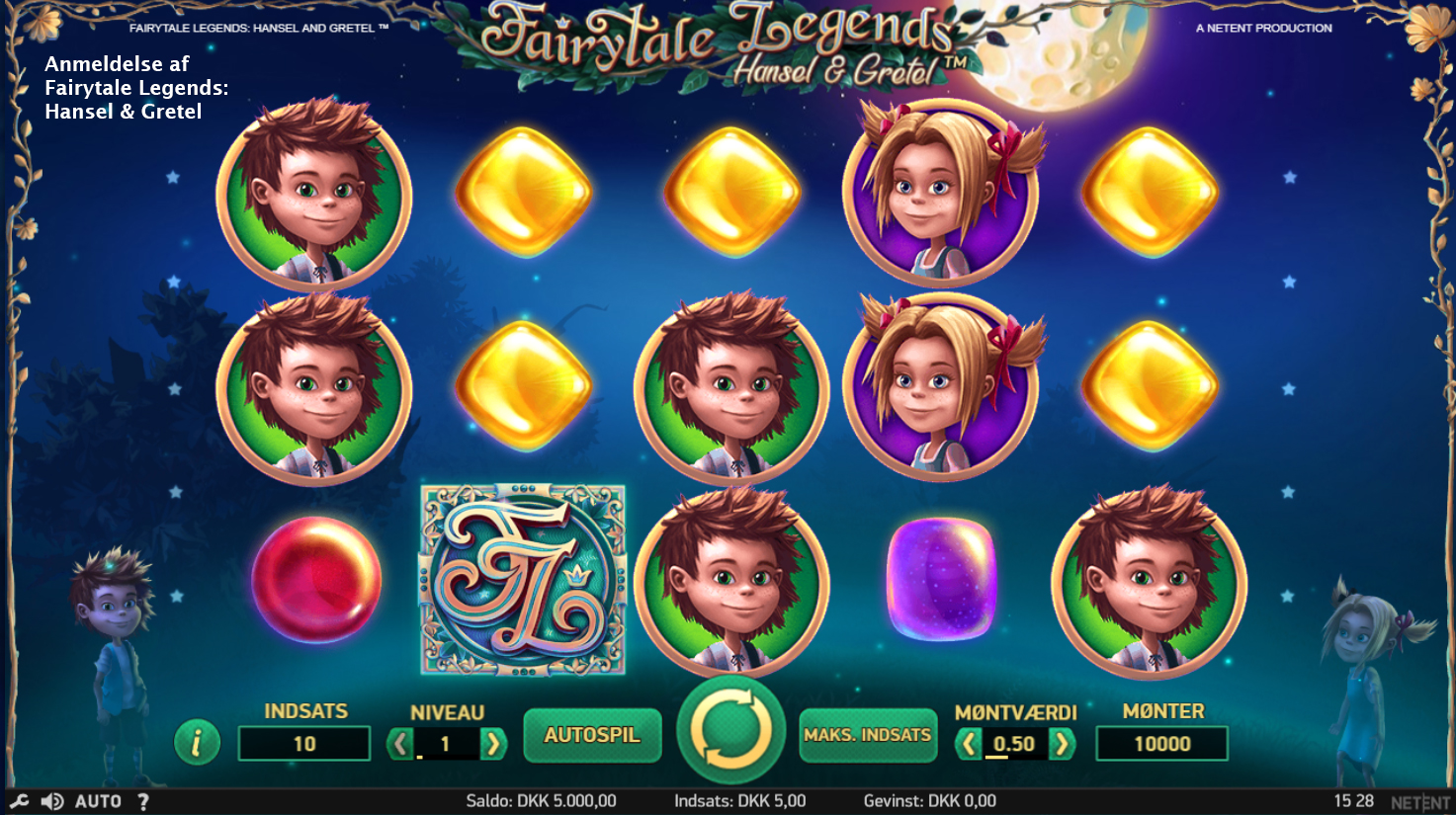 Stacked Wild-Symboler, Re-Spins og tre tilfældige features
På Fairytale Legends: Hansel & Gretel-spillemaskinen, som er udviklet af NetEnt, har du mulighed for at få de såkaldte Stacked Wild-symboler. Disse symboler kan blive vist på henholdsvis hjul to og hjul fire i hovedspillet samt på hjul et og fem under re-spins. I tilfælde af at der vises et Stacked Wild-symbol, som dækker hele hjulet, får man tildelt de såkaldte Stacked Wild Re-Spins, der får spillemaskinen til at give yderligere spins.
Herudover er der en række forskellige tilfældige features på spilleautomaten; henholdsvis Fairy Wonder Spin, Fairy Surprise og Fairy Wild Spin. Disse forskellige features aktiveres på tilfældig vis i hovedspillet. Ved den første af de tre omtalte features, Fairy Wonder Spin, vises der en overliggende klynge på mellem fem og ni spillelogo-symboler på hjulene i en spilleomgang. Den anden af de tre omtalte features, Fairy Surprise, udløses, hvis der ikke gives gevinst i en spillerunde. I denne sammenhæng vælges et symbol tilfældigt fra symbolerne på hjulene, hvorefter de øvrige symboler forvandles til det valgte symbol, indtil en gevinst vindes. Ved den sidste af de tre omtalte tilfældige features, den såkaldte Fairy Wild Spin-feature, kan to stakke Wild-symboler blive vist under spillerunden på hjul et, to, fire og fem. Når gevinsten er givet, og hjulene er standset, får man et Stacked Wild Re-Spin.
Ydermere vil tre bonussymboler på henholdsvis hjul et, tre og fem i hovedspillet aktivere én af de tre bonus-features. De bonus-features, som kan aktiveres på spillemaskinen, er henholdvis Candy House Bonus, Free Spins og Coin Win. I tilfælde af at den første bonus-feature, Candy House Bonus, aktiveres, skal spilleren vælge 3 ud af 15 genstande, som hver især repræsenterer en hemmelig multiplikationsfaktor. Herefter har spilleren to muligheder. Enten skal spilleren vælge at modtage et gennemsit af de tre multiplikatorer, ellers skal spilleren vælge én af dem og dermed modtage denne multiplikator. Hvis man får udløst den anden bonus-feature, så tildeles spilleren 10 free spins. Ydermere er det muligt at aktivere den sidste bonus-feature, Coin Win, som giver spilleren en møntgevinst. Værdien af denne møntgevinst er den aktuelle indsats x15.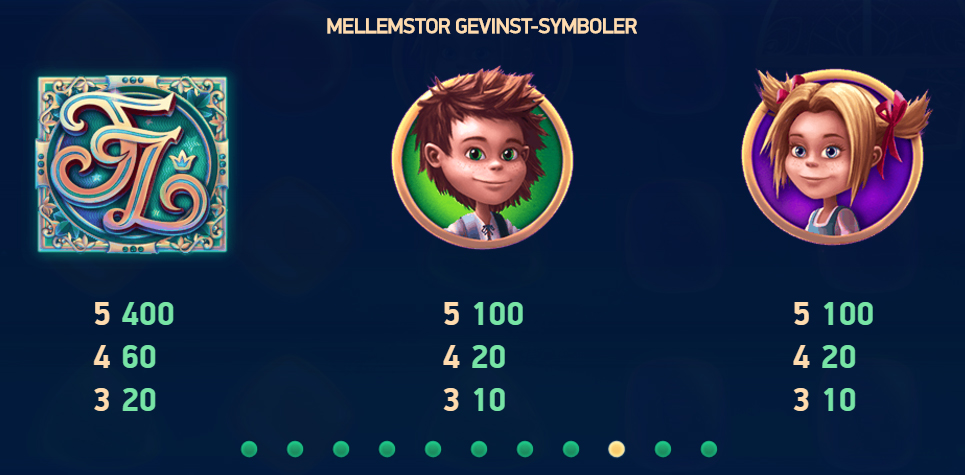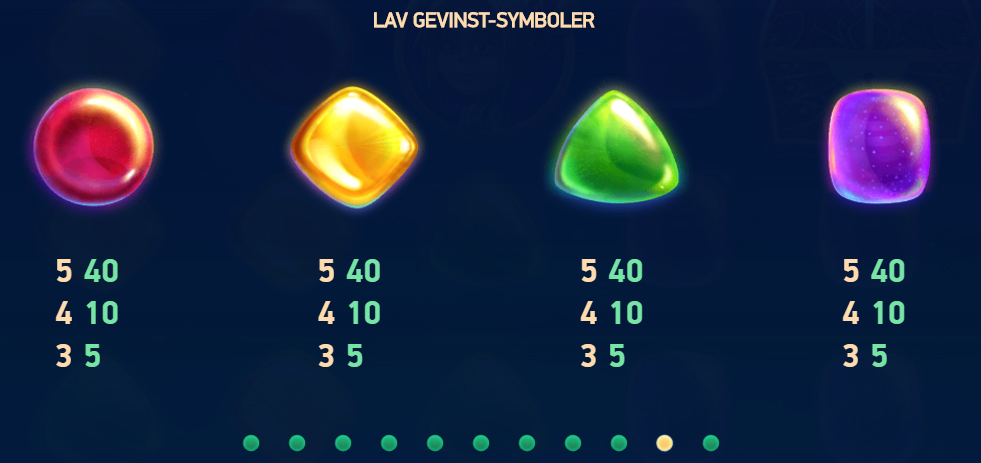 Autospil og prøvespil
Det er endvidere en fordel, at du har mulighed for at sætte Fairytale Legends: Hansel & Gretel-spillemaskinen på autospil. Dette er en funktion til dig, som foretrækker, at spilleautomaten spinder på automatisk vis, således at det ikke er nødvendigt kontinuerligt at trykke på spin. Ydermere er det væsentligt at påpege, at der ligeledes er mulighed for at spille med virtuelle kroner via prøvespillet, idet der findes denne spil-for-sjov-funktion til dig, der eksempelvis ikke er villig til at indbetale penge for at spille. Samtidig hermed er det en oplagt mulighed for dig, som endnu ikke ved, om spillet er noget for dig, samt for dig der ikke forstår spillet.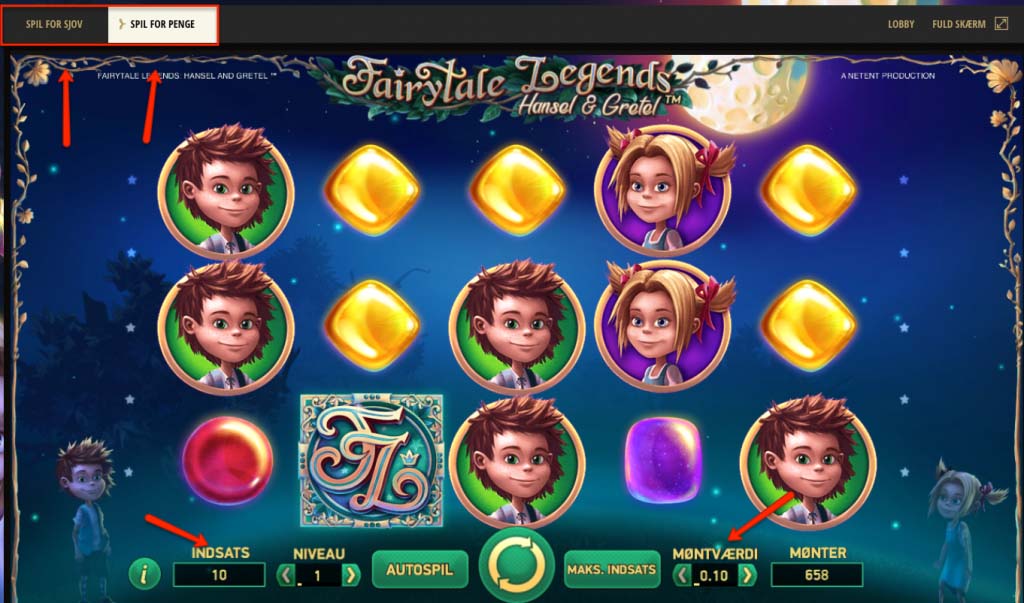 Fine vinderchancer på Fairytale Legends Hansel & Gretel-spilleautomaten
Der er fine vinderchancer for at få en gevinst på spilleautomaten Fairytale Legends Hansel & Gretel, der netop har en tilbagebetalingsprocent på 96,71%. Vinderchancen er den samme uanset indskud, hvorfor du altså ikke skal være bange for at smide en god sjat penge i. Derfor vil du opleve regelmæssige gevinster – store som små – med Hans og Grete. Det er naturligvis, som altid, vigtigt, at du spiller ansvarligt og på en måde, som passer bedst til dig og dermed dine ønsker, behov samt dit øvrige spilforbrug. 
Fairytale Legends: Hansel & Gretel er forholdsvis nem at forstå. Dette kan både være en stor styrke, men også en svaghed. Alle spil er bygget op omkring nogle præmisser, og dette spils præmis er, at vinderchancerne ikke kan influeres af dig. Hvis du derfor hellere vil træffe gode valg for at øge dine vinderchancer, så er automatspil højst sandsynligt ikke noget for dig – og således heller ikke dette. Men som automatspil er dette et aldeles godt spil, der appellerer til mange forskellige typer af spillere. Der er et væld af forskellige bonusmuligheder og features, og der er dermed også stor mulighed for at vinde kontakte pengegevinster. Er du iøvrigt også en eventyrentusiast, og ønsker du som følge heraf at komme på en nostalgisk tur med Hans og Grete, og som prikket over i'et desuden have muligheden for at vinde en pæn gevinst? Så kan denne spilleautomat, der bestemt lever op til vores forventninger, altså varmt anbefales dig. Her er kvalitet og grafik i top, og man er på ingen måde i tvivl om, at det er en dygtig og anerkendt leverandør, der står bag spillemaskinen.
Spil funktioner
Mere information